Journal of subClinical Investigations©
Clinical Environmental Epidemiology in the News
subClinical Research Group identifies critical health factors within human habitations using sC-1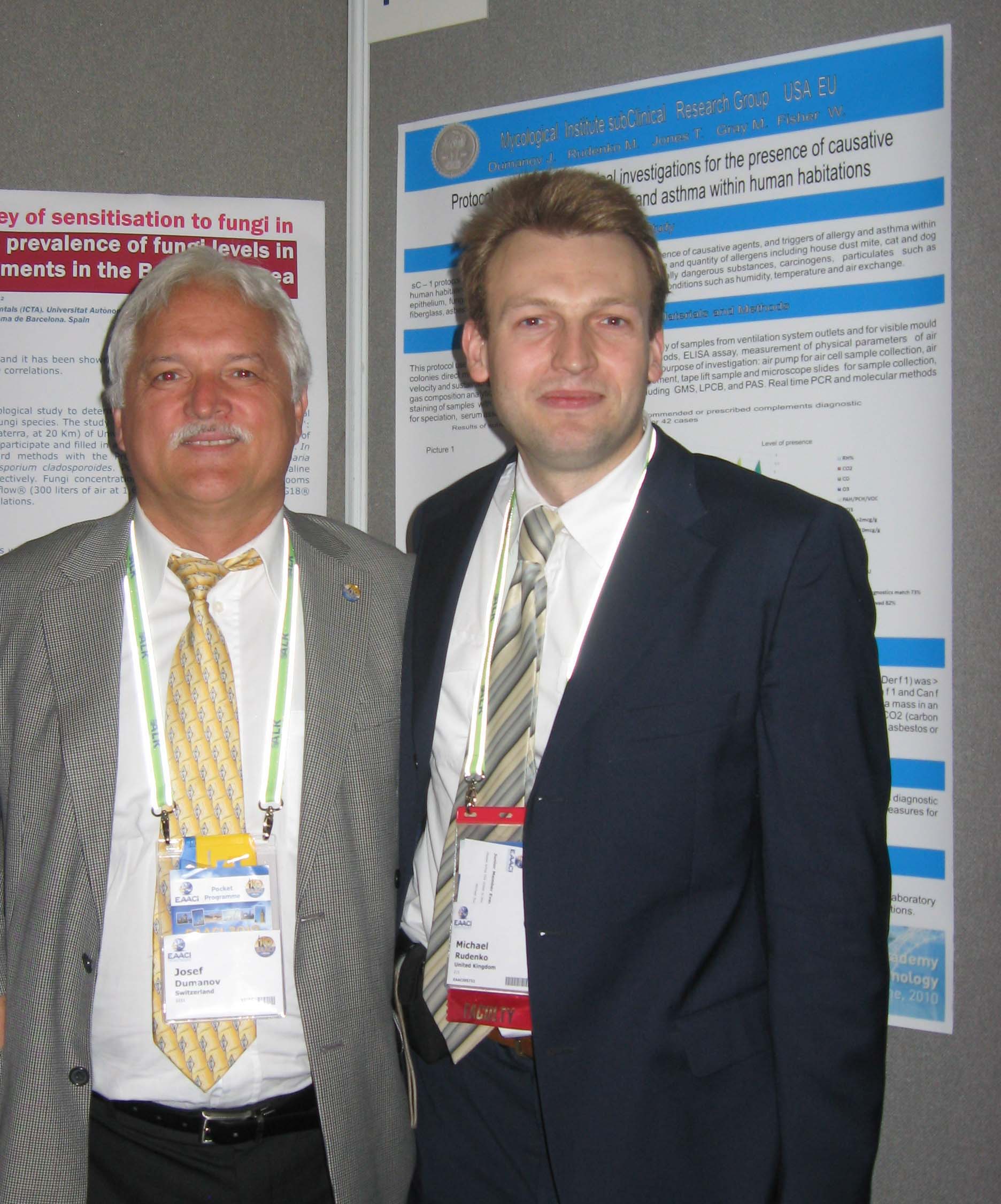 Medical Mycologist, Histopathologist DMM, Clinical Industrial Hygienist, J Dumanov, Allergist, Immunologist M Rudenko, MD, PhD, presenting their findings at the

Congress of European Academy of Allergy and Immunology 2010
FOR THE INDOOR ENVIRONMENTAL HEALTH SCIENTIST
June 5-9, 2010 Excel Center, Docklands, London, England. A team of US and EU researchers presented the findings of clinically based environmental factors that are little recognized by patients and even less so by environmental health workers employing the sC-1 protocol developed by the subClinical Research Group led by J Dumanov. sC-1 when employed answers many health questions never before asked and answered that are of immediate interest to the clinician and critical to the patient diagnostic.
sC – 1 protocol of subClinical investigations for the presence of causative agents, and trigger of allergy and asthma
Dumanov J 1,2, Rudenko M 1,2 Jones T, 2 , Fisher W 3
1 Mycological Institute sCRG, New Jersey, USA, 2 SubClinical Research Group, EU, UK , US, RU, 3 SEMI, Florida USA
BACKGROUND

subClinical protocol 1 aims to investigate the presence and quantity of allergens including house dust mite, cat and dog epithelium, fungal allergens and inhabitant exposure to potentially dangerous substances, carcinogens, particulates and many other factors.

The (sC-1) protocol was tested in 42 households of those patients clinically diagnosed as having allergies or asthma. In 27% of them presence of HDM (Der p1 and Der f 1) was > 2mcg/g. In 12% there existed exposure to >10 mcg/g. The presence of cat epithelium allergens (Fel d1) and dog allergens Can f 1 and Can f 3 (albumin), identified in 23 % of households In 18% mould (Asp, Pen, Clad. / Alt.) growth within the residence was identified as a mass in an area in > 1 ft2 /77cm2.
METHODS
This protocol uses air pump sampling, laser particle counters, microscopy of samples from ventilation system outlets and for visible mould colonies direct microscopy for laboratory identification, genomic methods, ELISA assay, measurement of physical parameters of air velocity and sustainable ventilation. For IAQ, equipment is used for the purpose of investigation: air pump for air cell sample collection, air gas composition analytical meter, colorometric indicators, hygrometer for vapor level measurement, tape lift sample and microscope slides for sample collection, staining of samples with standard commercially available stains including GMS, LPCB, and PAS. Real time PCR and molecular methods for speciation serum assay for select mycotoxins.
RESULTS
When we requested information from clinicians, it turned out that protocol results matched with results of that of some of physician's diagnostic tests of allergy sensitization in 73 % of patients. The improvement in their symptoms was observed in 82 % of those who took measures for reduction of the presence of causative agent as confirmed by a 6-9 month follow up by telephone questionnaire.
CONCLUSION
Subclinical investigations are a helpful tool for clinicians in diagnostic processes when they match results with clinical and laboratory investigations and history data. This improves the effectiveness in the ability to identify probable causative agent of allergic conditions.
Clinical Environment in the News© (CEIN) WISH TO THANK NJIE FOR THEIR DONATIONS AND SUPPORT OF THIS PUBLICATION AND FREE USE OF THESE PAGES FOR PUBLIC SERVICE AND EDUCATIONAL PURPOSES